This luxury treatment is fantastic for even the most neglected of feet and will be unrecognisable after they have been exfoliated with Leighton Dennys 'Diamond Sole Mate' Mineral & Oil Scrub , buffed & brought backed to life! Using refreshing & uplifting aroma therapeutic products your skin & cuticles will be softened & pampered! This treatment also includes a 'Sole Relief' Foot soak, expert filing of the nail, full cuticle work, Foot & Leg massage all finished with a choice of nail paint!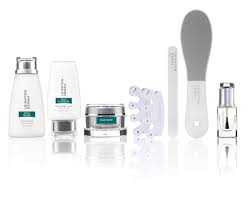 You'll feel like you're "walking on air" after your Pristine Pedicure!
Upgrade to Gel Polish for just £5.00!!
Book online now at http://tyciowellbeing.com/book-now/ quoting "Pristine Pedicure" or call 02920 626 003
**Terms & Conditions apply – These offers cannot be used in conjunction with any existing offer, promotion or package.
** These offers do not include the removal of existing Gel polish, please book a Gel Soak-off prior to your Appointment.